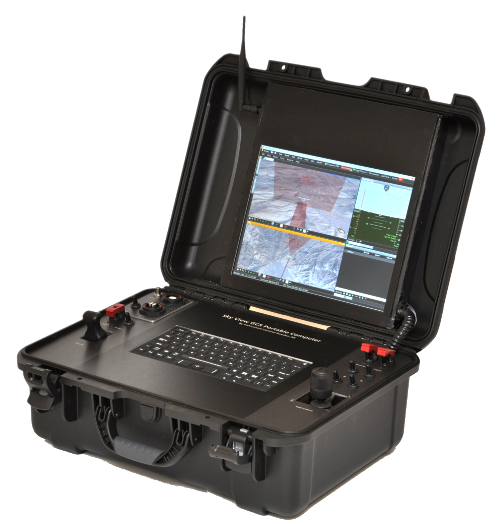 What is Portable GCS?
It is a portable ruggedized computer solution which allow a single operator to handle all tasks related to flying an unmanned aircraft. The included SkyView GCS software has been developed according to NATO STANAG 4586 to ensure full interoperability with allied forces. With a standard operating capability of up to 8 Hours. The display is very powerful and allows the operator to use it in full sunlight. The built in data modem and foldable antenna makes UAV communication setup very simple.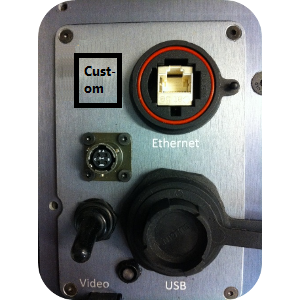 10/100/1000 Mbit/s Ethernet
USB 2.0
Customizable connector
+12VDC for recharging (MIL-C-26482)
Optional empty plate for custom integration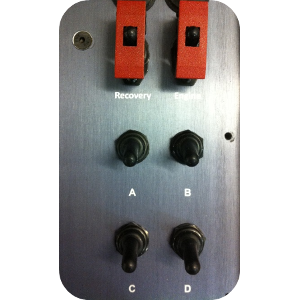 Recovery switch for emergency modes
Engine switch ON/OFF
Four (4) software configurable switches for ex.

Gimbal retract
Video transmitter On/Off
Video channel selection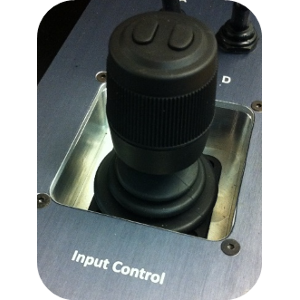 3-axis joystick for vehicle or sensor control

Horizontal axis
Vertical axis
Rotational axis

2 software configurable buttons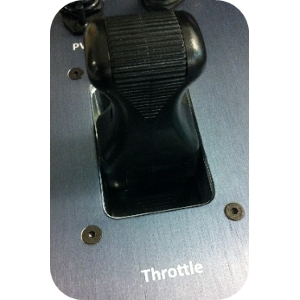 Throttle or speed control
One of three optional modes

Continuous
Return to zero
Step
Are your interested in additional information and pricing?
Pricing Plan
Portable GCS
SkyView GCS Software
NATO STANAG 4586 Compliant
15" Sun-readable display, 1600 nits
Joystick with 2 buttons for vehicle/camera control
Throttle for vehicle speed control
Integrated computer
Solid State Disc
4 I/O switches (software reconfigurable)
High quality keyboard and mouse
External or Internal Data Modem 869MHz, 900MHz, 2.4GHz or customer specific
Up to 8 Hours of battery operation
10/100Mbit Ethernet
USB 2.0
+12VDC (MIL-C-26482) for recharging
IP67 Environmental protection class when closed
IP62 Environmental protection class when lid opened
Wide operating temperature range: -15 to 50°C
550 x 430 x 215 mm L x W x H
Weight: 14.2 Kg
Optional Items
External Data Link Box with telescopic stand
Touch screen
Integrated GPS-receiver